How to create wordpress website- WordPress tutorial
Making money with website is no longer a strange term to you, but to some, creating a website is not easy. Some of you asked me to write a wordpress tutorial explaining how to create wordpress website.
I must say, knowing how to create wordpress website is one of the most important skill to make money online. Making your own website will make it possible for you to take full advantage of the website's features. In addition, if you make a website yourself, you only need to spend very small initial cost.
Make money online by developing websites
As technology grows, making money online is now a trend,
In the article 12 forms of prestige online money, I have mentioned a lot of forms required to know how to make websites, mainly will follow 2 directions:
Free traffic: Navigate customers through their search on Google.
Paid traffic: Navigate customers from advertising.
Besides, if you don't want to do run a website anymore, you can sell the website at a high price. Some people who make nichesite or authority sites now sell a site for several thousand to a few thousands of dollars.
For example, on Flippa (a website specializing in buying and selling websites, domain names), there are many expensive websites and many bidders who want to buy these websites.
Useful resources:
Ways to build a content website to sell products
Learn the basics how to create wordpress website
New to making a website, you only need to know the following terms:
WordPress.org: As open source to help you develop your website, you will make a website on this platform.
Hosting: This is the place to store all data for your website. As your website is a house, hosting is a land.
Domain: The domain name, ending with .com, .net, .org, ….
If you want to have hosting, you have to buy. There is also free hosting but it is very limited and the website is veru slow, unstable. Sometimes, the free hosting providers will close your site without warning. I've had some bad experience with free hosting in the past that took me a lot of time to rebuild my website. Googiehost closed down my site without any warning and I can't backup any date or even move to a new host.
About hosting, there are 3 categories for you to choose:
Dedicated Server: It is a separate physical server and you have full rights to this server. Rent is expensive and difficult to use, not suitable for new people.
Virtual Private Server (VPS): Also a private server but a virtual server generated by the physical server. You can still take full control of this virtual server, but it's also difficult to use with new people, only when you reach a mid-level level.
Shared host: A hosting is generated by a separate server, and in this server one creates many shared hosts for example A, B, C, D, … if you are using A, B, C, D are your neighbors. Although sharing the parent server, the data is separate. Shared host is easy to use with newcomers & this is the type of host you recommend to use at the beginning
Therefore, I recommend you use a trust worthy hosting provider. I recommend you try A2 hosting. I have built many several websites with A2 hosting and these websites run smoothly. They have professional customer services and quality web hosting. If you choose A2 shared-hosting, you can start a website with only $2-$3 a month. Luckily, you can save more money with these discounts code (available for knowmadslife readers only).
Get 30% OFF A2 shared hosting
Get 15% OFF your first domain name
If these hosting is still a bit expensive to you, you can start with Hostinger, one of the cheapest hosting with quality service. You can build a website for $1 a month with Hostinger premium shared hosting and receive a free domain name.
Get your discount code with free domain name here.
Steps to build a wordpress website
Domain name registration
First, you will need an available domain. Hosting providers allow to register a new domain name with the hosting package. Usually this is the best option for a new website.
However, you can also convert an existing domain name from a domain registrar or if you want to host a domain name at another registrar, you can also update the nameserver yourself.
Buy hosting
When buying a plan hosting, basically, you are hiring memory for your website on a server that is owned and maintained by the hosting company. Hosting servers also provide many related services to help manage the site, so you should review these services before deciding to buy a plan.
For most new WordPress sites, a Linux plan on a shared server will be the best choice.
After purchasing plan hosting, you can access cPanel, a dashboard can manage hosting accounts, access databases, create email accounts and perform other website related tasks.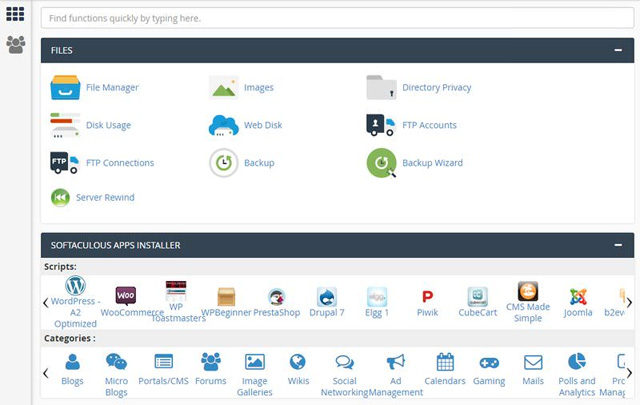 Install WordPress tutorial
You need to install WordPress software on the website. Most hosting providers offer automated installers, which means you can run WordPress automatic installer at the same time as buying plan hosting.
If you do not want to use the automatic installer, you can also install WordPress via the Softaculous application installer in the cPanel dashboard or other software. Choose WordPress and follow the instructions.
Check out this article for step by step guide: How to install wordpress- WordPress tutorial for beginners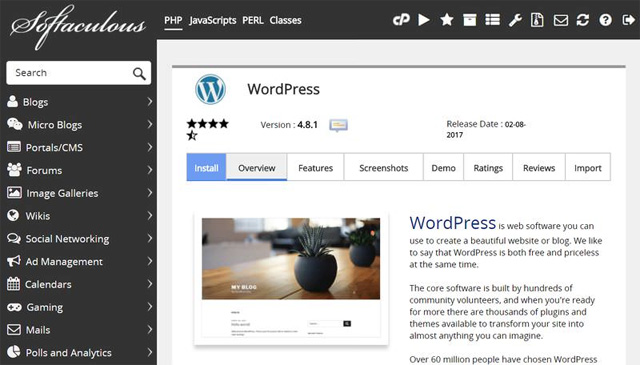 Choose the look of your website (themes)
Your website is built on open source WordPress, so third parties will create millions of available interfaces.
WordPress itself has a free and paid interface that you can choose to suit your website's purpose. We make websites seem to have only the following main purposes:
Make news website
Make sales website
Make your own blog, write your knowledge, like kiemtiencenter.com
Make your own service.
Every different purpose you have to choose the interface accordingly, and the interface manufacturers can meet 100% of your needs.
Especially which coder can learn to do WordPress interface, make for others or sell on theme markets, for example famous blog about money marketing affiliate Smartpassiveincome của Pat Flynn uses a very professional looking code interface: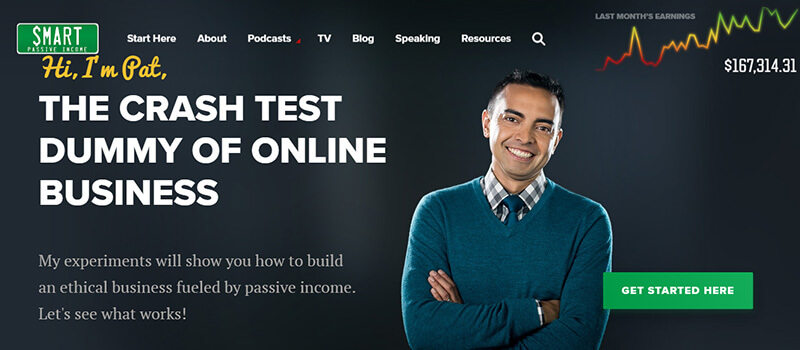 Okay after finishing the interface, you try to sit and tinkle and modify your website so that your website looks good, tweaks a little. Next is to install some popular plugins.
Install basic WordPress plugins
Your website now has the desired interface, but it has only the same basic functions as the new computer installed on the Windows operating system.
To add other necessary functions, you must install additional plugins, just like you install software for a computer. Depending on the purpose, you will install the appropriate plugins.
There are some basic plugins that are often required like:
Yoast SEO: SEO support for website
WP Super Cache: create caching to increase website speed
Contact form 7: create contact form
Like themes, WordPress Plugin has 2 types of free and paid. But with a new website, you only need to use free things already. (Both theme and plugin).
Install SSL certificate
Although an SSL certificate is not required on the site, you should use it. Firstly, because users trust a safer website and secondly, browsers have started pushing unencrypted websites.
Having an SSL certificate installed on the page means it will use secure HTTPS protocol instead of HTTP. So your URL will be https://www.yoursite.com instead of http://www.yoursite.com.
Fortunately, most hosting providers now offer a free SSL Let's Encrypt certificate, usually enough for small websites. You can install and manage it from the Security> SSL / TLS menu in cPanel.
Create an email account
You need at least one email address for the WordPress website for administrative purposes, for example to receive security notifications. Although a third-party email service provider, such as a Gmail or Yahoo address, may be used, consider setting up an email address with your domain name.
To create an email account, navigate to Email> Email Accounts in cPanel and fill out the "Add Email Account" form.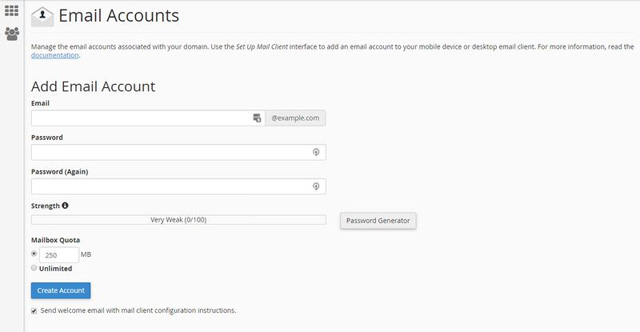 To access the new email address, scroll down to the same email account creation page, click the More button, and select the "Access Webmail" option.

Your mailbox also has a unique URL, usually is http://webmail.yoursite.com/ or http://yoursite.com/webmail/. You can see it in the URL bar after logging in to your account. If you just want to check email, you can quickly access the mailbox from this URL, no need to login to cPanel.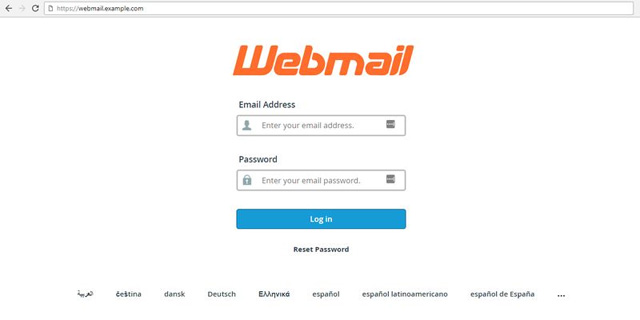 Register your site with search engine
If you want your website to be present on search engines, you need to register them by sending Google via Google Webmaster Tools and Bing or Yahoo via Bing Webmaster Tools. Some people sign up for their site on Google only, but Bing Webmaster Tools should not be ignored.
To use Google Webmaster Tools, you need to have a Google account. Log in to the website and on the main screen, click the "Add a property" button and enter the website URL.
Now you need to verify that the website belongs to you. To do so, download the provided Google HTML verification file and upload the file via FTP to the server in the public_html directory. When done, click the "Verify" button.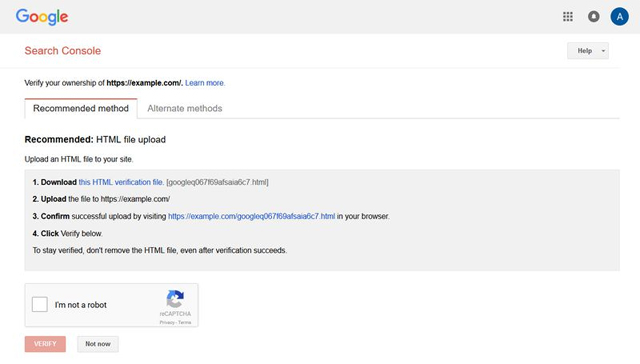 For best results, add the following four versions to the URL:

https://www.yoursite.com
Add all of them as separate properties, finally set the preferred domain according to the instructions on the google support page. If using an SSL certificate, select one of the HTTPS URLs.
Registering a website with Bing Webmaster Tools is similar. You need a Microsoft account, then log in to Bing Webmaster Tools, add the website URL and upload a verification file to the server via FTP. Note that Bing verification file is not HTML but XML file.
Set up a Google Analytics account
The site also needs some kind of analysis so you can understand better traffic. Although there are some analytical tools available on the web, the biggest analytics tool is
Google Analytics. However, many websites use more than one analytics tool. Google Analytics is also another free tool from Google, which allows to monitor and analyze access to your website.
Through Google Analytic you will:
Know the traffic to the website.
Knowing visitor information such as geographic location, age, gender, access device, …
Understand visitor behavior.
Knowing indicators like bounce rate, time on site, …
Know the information about website speed.
And many other functions.
With Google Analytic you will understand visitor behavior and evaluate the quality of content on the website, which will help you optimize better.
To use Google Analytics with WordPress, you will need the plugin. But first, you need to create your account. The best way if you use the same Google account used for Google Webmaster Tools because you can link these two services together.
In the Google Analytic Dashboard, you can view all kinds of statistics based on data such as real-time user access, traffic sources, referral, country and more. You can also create a variety of other configurations to get the statistics that provide the information you need.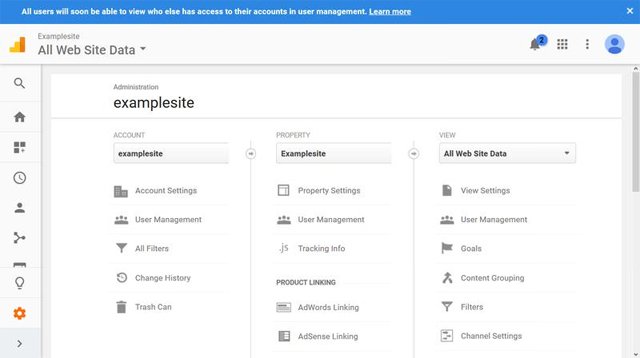 Other tasks
This article has introduced the most important off-site tasks to do when creating a new WordPress site, but this is not a complete list. In cPanel, you will find several other options for managing websites. It depends on the hosting provider that provides features for users. Some of the choices will vary depending on the provider, however there are many common types.
Most hosting providers have backup management tools and some can even automatically back up. The features depend on your type of hositing account. Backup note can be done from cPanel and with a WordPress plugin, choose the solution that is right for you (but don't forget it).
So I have completed the way to create a website with WordPress. Also simple right? Hope you succeed without any difficulty!
There are many more jobs you will have to make the website that I think will take a lot of effort like:
Keyword research for SEO
Website content development
On page SEO
Off page SEO
Logo design
…
All I have to share on this website, remember to follow!